4 Key Signs Show Bitcoin's 150% Rally From the $3,700 Lows Is Finally Over
Due to a widespread recovery in risk assets, Bitcoin and its altcoin counterparts have recovered all the losses they have incurred in March. From the March lows of $3,700, in fact, Bitcoin is up by over 150%.
Yet with BTC finally stalling in the $9,000s, analysts see a confluence of tell-tale signs that a further bearish reversal is inbound.
Bitcoin Is Printing Tell-Tale Signs of a Reversal
Over the past few hours, Bitcoin has slipped under $9,000 after holding above the pivotal level for upwards of two weeks.
Analysts have already reacted to this move lower negatively, postulating that BTC is in the midst of reversing after its jaw-dropping rally from March's capitulation lows.
A top trader recently identified four technical trends indicating that Bitcoin's uptrend is over, sharing the chart below:
Bitcoin has finally broken below the ascending triangle formation that began to form at the start of May. Ascending triangles are textbook chart patterns that often break higher as they signify that an asset is trending higher.
After attempting to rally back into the triangle, BTC failed, turning a support level into a resistance.
Bitcoin moved below the daily Bollinger Bands base line — a technical occurrence that has historically preceded downside.
BTC could soon break below the crucial 50-day simple moving average.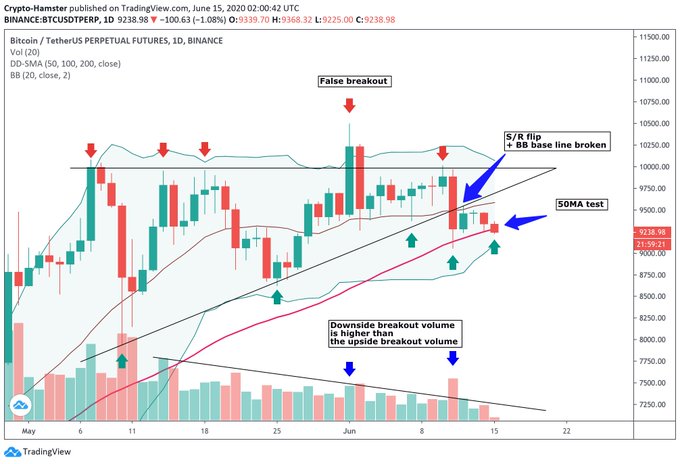 Bitcoin breaking below the 50-day simple moving average will open the cryptocurrency up to a move to the $7,900-8,200 range, per the same analyst that shared the chart above.
One of Many Factors Suggesting the Start of a Greater Correction
Supporting the expectations of crypto market downside is a bear trend seemingly forming in the S&P 500 and broader risk-asset markets.
Leading equities have slipped lower over recent days after recovering effectively all of March's losses in a V-shaped reversal. The reversal has been so strong that June 11th's trading session was one of the worst days for the Dow Jones in history.
Bitcoin is not in a place where it will rally if stocks continue to sink, analysts have said.
Analysts at JPMorgan, for instance, said in a report on June 11th that Bitcoin has exited March's crash trading like a risk asset that moves in tandem with equities and other asset classes.
Even cryptocurrency proponents like BitMEX CEO Arthur Hayes have thrown their weight behind this narrative. Hayes wrote in an April newsletter:
"Bitcoin will be owned unlevered. Could the price retest $3,000? Absolutely. As the SPX rolls over and tests 2,000 expect all asset classes to puke again. As violent as the Q1 collapse in asset values was, we have almost 100 years of imbalances to unwind the ancien régime."
Featured Image from Shutterstock
Price tags: xbtusd, btcusd, btcusdt
4 Key Signs Show Bitcoin's 170% Rally From the $3,700 Lows Is Finally Over
Source: https://www.newsbtc.com/2020/06/15/4-key-signs-bitcoin-rally-3700-lows/?utm_source=rss&utm_medium=rss&utm_campaign=4-key-signs-bitcoin-rally-3700-lows
Trends, Insights & Startups from The Fintech 250
Current Research on Effect Specific Uses of Cannabis
New research regarding the benefits of cannabis and its main properties of CBD and THC continues to emerge as more countries and states legalize the medical and recreational use of marijuana. Also, because of legalization, the business potential of the cannabis industry continues to grow. Cannabis companies can now distribute to a broader range of people. However, there is more to cannabis than different strains (Indica or Sativa) or the ratio of CBD to THC. Another essential cannabinoid is terpenes, and they play a critical role in the effectiveness of cannabis.
A Perfect High
As the cannabis industry continues to enter the mainstream sphere, it must determine how to market to the mass consumer who expects their cannabis product to be consistent in quality and give off the desired effect. Consumers search for a product that provides a more tailored experience and a more controlled high. Like how the consumer can pick their alcohol to achieve desired effects, cannabis companies and scientists research ways to deliver a custom product. Before a consumer buys a product, they need to know if the product's cost matches the quality of the experience.
THC causes impairment, slower reaction time, and difficulty performing simple tasks. Consumers want to control their level of buzz. Just like there is a wide variety of alcohol, each with its flavors, and proof, that allows a consumer to have their own unique experience. Cannabis companies strive to achieve a range of products that can mimic the desired effect, from calming to energetic or happy. Consumers also want to test how their body responds to these products to make the most informed decision about what is right for their needs and works best for them.
Ultimately, scientists continue to learn about the importance of terpenes and CBD to modify THC's effects. The largest cannabis companies and their teams of scientists keep their research under wraps for competitive reasons. Every company wants to be the first to produce a controlled, tailored product. Whoever discovers this first will have an advantage within the cannabis industry.
The Entourage Effect
Cannabis companies and scientists ultimately want to achieve a way to tame THC, a term first introduced by scientist Ethan Russo in 2011. They estimate the cannabis industry will grow as large as the alcohol industry and generate billions of dollars in revenue a year, but only if they can manufacture a product that consistently delivers. In 1998, scientists Raphael Mechoulam and Shimon Ben-Shabat discovered the entourage effect, or the combination of THC, the psychoactive component, CBD (cannabidiol), an active non-psychoactive ingredient, and terpenes, the flavor and taste profile of each strain. All three elements have a unique effect on the body, depending on each ingredient's ratio and combination.
However, with just the cannabis plant, it is hard to replicate the same feeling and its effects on the body since each plant, grown from different marijuana seeds, has its unique properties. Scientists continue to try and isolate these components to learn better ways to use them as a controlled substance. Also known as whole plant synergy, the main ingredients THC, CBD, terpenes, and other cannabinoids are also essential to unlock the health benefits of cannabis and how to use each ingredient to treat chronic pain and diseases better.
Evidence shows that cannabinoids boost other cannabinoids; for example, THC enhances CBD's medicinal properties, while CBD modifies and controls the effects of Eagle Moon High THC Seeds, producing a more controlled high. Each cannabinoid is more effective together, which is why THC alone or CBD only products derived from hemp are less potent and effective. There are also other minor cannabinoids at play, such as CBG or CBN, that scientists continue to research. Emerging research also suggests the possibility of two different types of entourage effects: Intra-entourage refers to the interactions of cannabinoids and terpenes and inter-entourage, which relates to the interactions between terpenes to terpenes and cannabinoids to cannabinoids. However, research slowly begins to unearth the role terpenes play in the entourage effect and its full potential.
Terpenes and Future Potential
Cannabis consumers are more sophisticated than society's perpetuated stereotype of the stoner or hippie. Consumers want to know about the benefits and properties of cannabis, such as Indica versus Sativa, and THC versus CBD. While they may be more familiar with these terms, terpenes are a newly discussed topic amongst cannabis circles, and consumers and scientists alike want to unlock terpene's full potential. Scientists describe terpenes as the flavor profile in all plants but specifically provide each cannabis strain with its taste and smell.
Researchers today understand that the properties of terpenes go beyond just flavor, smell, and stimulating moods, but modulating brain activity that can have potential health benefits. CBD and THC have higher potency together, and the same is true that terpenes, along with other cannabinoids, work better together and have a more substantial impact. Terpenes and cannabinoids can increase blood flow, enhance motor and sensory functions, and eliminate respiratory bacteria that cause MRSA. The terpenes and cannabinoid attribute to the effectiveness of marijuana or cannabis products in the treatment of chronic pain, inflammation, depression, anxiety, and even fungal and bacterial infections.
Companies define the use of cannabis for medicinal or holistic reasons, by the strain or CBD to THC ratio. However, new research suggests that the terpene profile may be one of the most critical elements in the effectiveness of the strain and its intended use. As the cannabis industry and scientists compete to unlock the potential of terpenes and its connection to THC, CBD, and other cannabinoids, consumers will gain access to a marijuana experience unlike anything before.
AUTHOR BIO:
Crystal Wilson. Crystal has been closely studying the cannabis industry trends for quite some time. Intrigued by the booming growth of this sector, she takes interest in penning down her views providing quality insight on current marijuana trends, particularly medical cannabis.
How Telemedicine Can Help Keep Your Health on Track
Keeping yourself healthy and in tip-top shape isn't all about eating that kale and keeping up with your exercise routines, it's about knowing when to have those pesky health issues looked at too.
Taking care of yourself means that you address even the smallest lingering health issue, whether that means that you have a therapist visit when you have been feeling a little anxious lately, or if you just have a toenail that has been looking kinda funky recently.
Getting things checked out as soon as they are noticed seems easy enough, but in this day and age of fast-paced lifestyles, it is way too easy to just push a non-urgent doctor's appointment to the back burner. Luckily, for many non-urgent health concerns, telemedicine is the developing facet of healthcare that can help you get medical attention quickly and easily.
Read on to learn 5 ways that telemedicine visits can help you keep yourself in great health without having to always fit in that in-person doctor's visit.
1. No More Avoiding That Doctor's Visit
The most important thing about the healthcare route that you choose, is to make sure it is one that you will be able to fit in as soon as possible. In-person doctor's visits are vital for some conditions, like things that are serious, painful, acute, or could develop rapidly. And, for these things, there is no avoiding being seen immediately in an office setting.
But, for those more minor (but annoying) things in life like acne, scars, hair loss, or erectile dysfunction, it is not uncommon for people to delay getting care. The most common reasons why people choose not to be immediately seen for conditions like these can be because they are busy and have trouble fitting in a non-urgent visit, or they are just a little bit embarrassed or uncomfortable talking about delicate issues like sexual health or skin conditions.
With telemedicine, there is an ease and increased comfort of getting health conditions checked out by a professional. Because, even when a condition seems minor, or negligible, if something is bothering you, mentally, physically, or both — you owe it to yourself to get it taken care of.
2. If You Have 15 Minutes, You Have Enough Time
Too busy to address if it is rosacea causing your to flush when you drink a hot beverage or see if a prescription retinoid can help with those fine lines creeping up on your forehead?
If you have 15 minutes to spare, you have enough time to have a quick online telemedicine visit for many of these lingering concerns. Telemedicine helps boil down doctor's visits to their essentials — the time spent interacting with a doctor. This means that online visits can be as short as 10-15 minutes, once the commute and waiting room time is stripped away.
3. Prescriptions Shipped ASAP
Once you have a visit with a doctor, they may prescribe a medication to help you with the issue. With in-person doctor's appointments, this normally means that you now have to trek over to your local pharmacy and wait for an indeterminate amount of time to get the treatment filled.
For those of us who are already on tight schedules, a pharmacy trip plus the visit can seem like the whole day has been used up. With telemedicine, it is all about ease combined with quality healthcare, so the prescription is often taken care of for you. The telemedicine service will go ahead and work with a pharmacy to schedule your prescription fill and shipment, often getting your medication to your front door in as little as 1-2 days.
4. 24/7 Support for Questions and Concerns
If you have ever wanted to put a quick call into your doctor about a question that popped up with a new treatment or condition, you have likely discovered that there is nothing quick about getting answers from a doctor busy working at a clinic.
This may have led you to avoid raising questions or concerns about your treatment, or you just wait until your next visit. With telemedicine clinics, it is all about availability. If you have a question or concern about your treatment or diagnosis, many telemedicine platforms offer 24/7 online or phone support to get you answers quickly.
5. No Worries About Being Around Potentially Contagious Environments
When various contagious conditions are going around, or if you are someone who has a compromised immune system, going to a doctor's office can be anxiety-inducing. Healthcare environments are there for those with health issues, so it is possible that even if you are heading in to be seen for a non-contagious issue, you may be sitting right next to someone with something contagious in the waiting room.
Telemedicine offers high-quality health care visits that get your condition addressed, from the comfort of your own home (without you having to think twice about a person coughing and sneezing in the clinic).
Conclusion
Optimal health is about taking care of healthcare issues quickly and efficiently, no matter how minor you think they are.
Telemedicine offers a quick and easy route to take care of those little issues in life, ranging from dermatology, to nail care, or even your hair looking a little thinner than usual.
Along with prescriptions shipped easily, 24/7 physician support, and not having to worry about being in contact with others who are not feeling well, telemedicine is truly a way to improve your health and self-care skills with technology.
Source: Franco Columba. Franco is a Medical Content Writer for StrutHealth by day and an eCommerce guru by night. As a HubSpot Certified Content Marketer, he enjoys creating content that helps illustrate words in a unique way to readers.