4 Creative Ways to Use Clubhouse For Marketing
Building side-projects and learning new stuff every day.
Clubhouse was trending big time, now comes a time of consolidation and figuring out what to do with it 🤔️ That much is clear. This brings one question up: how can you use it for your benefit? What are the common ways to promote your side-project, business, or ideas? Also, how does it integrate with other social media?
Keep reading to learn four methods to drive attention to your business or project with the help of Clubhouse. If you aren't fully on board, read up on how to use Clubhouse (if you are new and need some more).
Let's jump straight into the first way to promote your business with expert interviews.
1. Interview Experts Who Turned Their Passion Into a Business
It's easy to find people who want to talk to you, especially if you're willing to give them publicity. In the past, finding experts to talk to you meant cold-calling or emailing businesses and people you didn't know. Fortunately, social media changed all that. Today, it is far easier to find experts willing to talk to you.
The most obvious place to find experts is LinkedIn, which has more than 700 million users worldwide. There, you can reach virtually any profession — even very specialized professions.
Let's say, for example, that you want to learn more about how to improve the performance of your company's sales department. Start by putting "sales" in the "Industry" box at the top of the LinkedIn homepage. Then click into the "Companies" box and type in the name of your company. Now hit the Search button to bring up a list of all the companies that have salespeople.
2. Host an AMA or Q&A session
AMA stands for "ask me anything" and it is a type of "self-interview". Traditional interviews are led by a moderator and have pre-selected questions by the interviewer. AMAs have the host actively engaging the audience and having the guests participate. Usually, the questions are sent in by listeners before the session.
In recent years, AMAs have become popular on Reddit and YouTube especially. To learn more about AMAs in general, here. Most of the lessons can be used on Clubhouse.
3. Pre-Event and Post-Event Sessions
A great way to engage with your listeners is with pre and post-events on Clubhouse. Clubhouse Events allow you to create pre-event and post-event discussions for elections, sports events, fundraising challenges, media launches, etc. As you can plan and organize an event for various cases, the limit is your imagination here.
4. Hold a panel discussion on Clubhouse
A panel is a group of experts discussing a topic. Each person in the group needs to be an expert to some degree. Ideally, you want the group to not entirely agree as there wouldn't be much to talk about. Naturally, diverse panels lead to much more interesting discussions.
It is essential to have a moderator to start with – a moderator who can keep the discussion going and solve conflicts if they occur. The moderator's job is to maintain a friendly environment and allow everyone to have a pleasant experience.
Bonus Tip: Get the most out of your social shares
You surely want to take your friends and fans along to your Clubhouse sessions. Yet, whenever you post a Clubhouse link, they look a bit sad: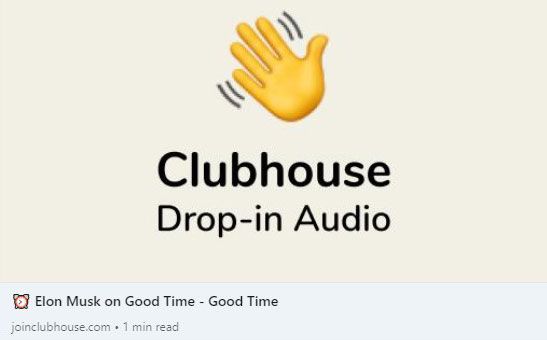 This leaves room for improvement. ClubLink is a free tool I've built to help with this. It converts your sharing posts to awesome looking images:
This is especially important with dropping
organic traffic from social media
. I hope this helps you driving more attention to your Clubhouse sessions!
Over to you!
With these four ideas, you should be armed to get your sessions going. So head over to Clubhouse and get started today. A spontaneous session often helps to get your direction sorted.
Join Hacker Noon
Create your free account to unlock your custom reading experience.
Coinsmart. Beste Bitcoin-Börse in Europa
Source: https://hackernoon.com/4-creative-ways-to-use-clubhouse-for-marketing-6t1h364u?source=rss
Airspeeder completes the first test flight for its electric flying race car
Electric air racing just took a significant step forward. The Verge reports that Airspeeder recently completed the first test flight for its electric flying race car, the Alauda Aeronautics Mk3. A remote pilot flew an uncrewed version of the eVTOL aircraft over southern Australia with the country's Civil Aviation Safety Authority watching over the test.
The machine can reach altitudes up to 1,640 feet and hit 62MPH in 2.8 seconds. Remote pilots fly in a cockpit-like environment through virtual courses, with LiDAR and radar helping to prevent collisions. Crucially, the design is meant to minimize downtime. While the Airspeeder racer can only fly for up to 15 minutes on a charge, teams can swap batteries in as little as 20 seconds.
The test flight clears the path for a three-event EXA uncrewed racing series, starting later in 2021, that will feature up to four teams with two pilots each. Data from those competitions, including dummy "tele-robotic" avatars in the cockpits, will ideally lead to directly human-piloted races in 2022.
Airspeeder will still deal with many of the challenges of electric flight, including the short-lived batteries. All the same, this test and the subsequent races suggest EV air races are quickly becoming practical. It may be more a question of refining the technology than getting it into the skies in the first place.
All products recommended by Engadget are selected by our editorial team, independent of our parent company. Some of our stories include affiliate links. If you buy something through one of these links, we may earn an affiliate commission.
Coinsmart. Beste Bitcoin-Börse in Europa
Source: https://www.engadget.com/airspeeder-electric-flying-race-car-test-flight-175132594.html?src=rss_b2c