4 Common Commercial Property Problems & How to Fix Them
Renting a commercial property can be a fantastic way to generate a steady income that can supplement your earnings. However, it isn't as simple as just listing your commercial property online and waiting for someone to agree to a lease. Your commercial property needs to be in excellent condition to stand a chance in a very competitive real estate market.
If you are new to renting commercial properties, you'd be surprised how many problems can arise that you may have yet to consider. To help you fix them and attract potential tenants, we've outlined some of the most common commercial property issues that need to be addressed in the article below.
Top 4 Common Commercial Property Problems
Read on and find out what to focus on to bring your property to its full potential!

Leaks
Your commercial maintenance efforts should always begin with addressing the most likely and most dangerous problems first. In the case of commercial property, this would be any leaks. No matter how small they may seem, all leaks should be fixed as soon as possible since they can quickly escalate and cause extensive damage to the surrounding space.
To illustrate the point, even a single burst pipe can quickly cover the entire floor of your commercial space with water and harm the floor and furniture that gets soaked. Furthermore, standing water is the perfect breeding ground for mold and mildew, which can further damage your property and be extremely harmful to your tenants' health.
The easiest way to get rid of any leaks is to hire a professional to fix them for you. Such people have the necessary know-how and experience to both fix the existing leaks and help you prevent any future ones by carrying out regular maintenance checks.

Pests
No tenant wants to move into a property already home to rodents, insects, or cockroaches. Not only are they unsightly and dangerous, but they can also cause spread to other areas in the building, leading to more infestations.
Rodents, for example, are known for chewing through wires, which can lead to fires, and their droppings can contaminate food and spread diseases. Insects, on the other hand, can carry bacteria and viruses that can cause serious health problems in humans. In some cases, they can even trigger allergic reactions.
To get rid of any pests that might be infesting your commercial property, you need to hire a professional exterminator. However, if you don't have the budget for that, there are also some DIY methods that you can try (e.g., using insect repellant or rodenticides).
Just make sure you take the necessary precautions to avoid harming yourself or your tenants – you don't want to poison people with insecticide and be held liable for it!

High Energy Consumption
One commercial property issue that is often overlooked is high energy consumption. Not only does it lead to higher utility bills, but it is also bad for the environment. To make your commercial property more attractive to potential tenants, you need to make sure that it is as power-efficient as possible.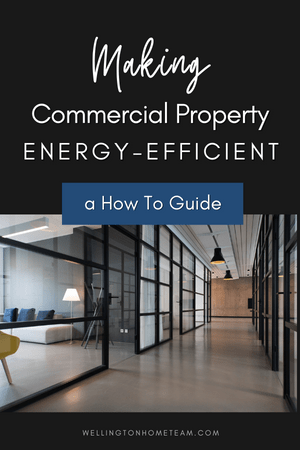 There are many ways to make your commercial property more energy-efficient, such as:
Replacing old light bulbs with

energy-saving LED

ones.

Installing solar panels on the roof.

Fixing any drafts that might be coming in from windows and doors.

Adding insulation to decrease heat loss in the winter and keep the property cooler in the summer.
Making your commercial property more energy-efficient will not only make it more attractive to potential tenants but also help you save money on your utility bills. It's a win-win situation!

Electrical Problems
Another common commercial property issue that needs to be fixed is any electrical problems. Issues with the wiring inside the walls can be hazardous and lead to fires, so it is essential to make sure that your electrical system is up-to-date and in good working condition.
If you are not an electrician, you should never try to fix any electrical problems yourself. Always hire a professional to do it for you. Not only will they be able to fix the problem correctly, but they will also be able to identify any potential problems that might arise in the future and prevent them from becoming bigger issues.

Final Thoughts
As you can see, many common commercial property issues need to be fixed immediately.
The commercially oriented areas aren't that different from residential ones, so a lot of the issues are the same. By addressing them and making your property more attractive to potential tenants, you will be able to rent it out more quickly and for a higher price.
The great news is that even if you don't have the necessary expertise to conduct the repairs on your own, you can always hire a professional to do the majority of complex and time-consuming tasks for you. Not only will they be able to do a better job, but they will also be able to do it more quickly and safely. After all, what good is it to fix the problem if you end up causing harm to yourself in the process?
Please consider spreading the word and sharing; 4 Common Commercial Property Problems & How to Fix Them
Commercial property problems are normal in fact there are 4 common problems that most owners face, which are discussed in this article. #realestate #commercialrealestate Click to Tweet
About the Author
Top Wellington Realtor, Michelle Gibson, wrote: "4 Common Commercial Property Problems & How to Fix Them"
Michelle has been specializing in residential real estate since 2001 throughout Wellington Florida and the surrounding area. Whether you're looking to buy, sell or rent she will guide you through the entire real estate transaction. If you're ready to put Michelle's knowledge and expertise to work for you call or e-mail her today.
Areas of service include Wellington, Lake Worth, Royal Palm Beach, Boynton Beach, West Palm Beach, Loxahatchee, Greenacres, and more.
4 Common Commercial Property Problems & How to Fix Them