2022 Nissan Rogue Sport Warning Signals Developed By Pac-Man's Game Studio
In February last year, Nissan unveiled the new Qashqai for the European market with a big tech upgrade and a fresh new exterior design. It is yet to arrive in the United States as the 2022 Rogue Sport, though we might already know some spicy details about the compact crossover's technologies.
The Japanese company has detailed an interesting feature of its new generation models for the globe. It is the ability of modern cars to communicate with the driver through different (often very annoying) pings and beeps to let them know there's an open door or a seatbelt that's unfastened. Nissan has taken these signals to another level by asking entertainment company Bandai Namco Group to develop in-car sounds for some of the automaker's latest cars.
For those of you who are unfamiliar with Bandai Namco Group, this is the same company that developed the Pac-Man game, plus other classics like the Tekken and Taiko Drum Master. Nissan asked the experts at the firm to create unique and higher-quality sounds to deliver information about the vehicle's status. The manufacturer says it wanted "the 'voice' of its vehicles to have more personality and character."
"We wanted to make it easier to understand the information in the car and provide an emotional tone so that people feel the Nissan brand," Hiroyuki Suzuki, Nissan's lead engineer for in-car information sound design, comments. "In-game development, Bandai Namco's sound creators develop sounds that simulate players' intuitive understanding. We collaborated to create sounds that can help drivers have a similar intuitive understanding, in addition to creating sounds that will become synonymous with Nissan global models."
For now, the new generation of in-car sounds will be used in the 2021 Nissan Rogue and Pathfinder, as well as the Nissan Note for Japan and the new Qashqai in Europe. The latter is expected to become the new Rogue Sport very soon so that's a pretty good hint at what to expect from its tech-heavy cabin.
Coinsmart. Beste Bitcoin-Börse in Europa
Source: https://www.motor1.com/news/512693/nissan-rogue-sport-warning-signals/?utm_source=RSS&utm_medium=referral&utm_campaign=RSS-category-technology
Rivian shares details about the R1T's premium cabin and its amenities
Rivian released details of the R1T pickup truck's interior, specifically those quipped with the company's Adventure Package and Forest Edge interior. Based on the features outlined by the company, it is evident that Rivian brought its A-game when it fitted the all-electric pickup truck with its features and amenities.
Immediately noticeable in the R1T is its generous number of storage options. In both the first and second row, storage spaces are abound. There's an open 14×11-inch space under the center display, a 33-inch wide storage bin under the R1T back seats, and smaller storage pullouts under the driver and passenger seats. These are complemented by four retractable cup holders and space for one 40-ounce water bottle in each door's cargo compartment.
Similar to Tesla's interior, which keeps sustainability in mind, the Rivian R1T is fitted with vegan leather seats. Even the vehicle's microfiber headliner is made from 100% recycled materials, and its lightweight Chilewich floormats are designed to be easily taken off, hosed down, and replaced. These, together with other smudge-resistant accents in the interior, ensure that owners can keep their R1Ts (relatively) clean while they enjoying the outdoors.
The R1T's main controls are accessed through the all-electric pickup's 16-inch center display, which provides pertinent information such as weather and climate controls thanks to its 4G connection. A 6.5-inch rear display, placed at the back of the center console, is also present. Six USB Type-C ports are placed around the cabin: two in the center console, two in the rear center console, and two more in the back of the front seat headrests. A wireless charger is also available, as well as a 12V outlet and a 120V outlet.
A possible favorite feature of Rivian R1T could be its capability to act as a Wi-Fi hotspot using its onboard 4G connection. This feature would likely be appreciated by owners who tend to travel with kids that love to access their favorite streaming services on their devices. Other toys and tools in the vehicle include a 1000-lumen flashlight and a weatherproof Camp Speaker with a dedicated low bass campground mode to keep owners' sonic footprint from disturbing wildlife and fellow campers. An optional 130-piece Rivian Field Kit, which includes emergency essentials like a rescue blanket, poncho, and fold-up shovel, is also available.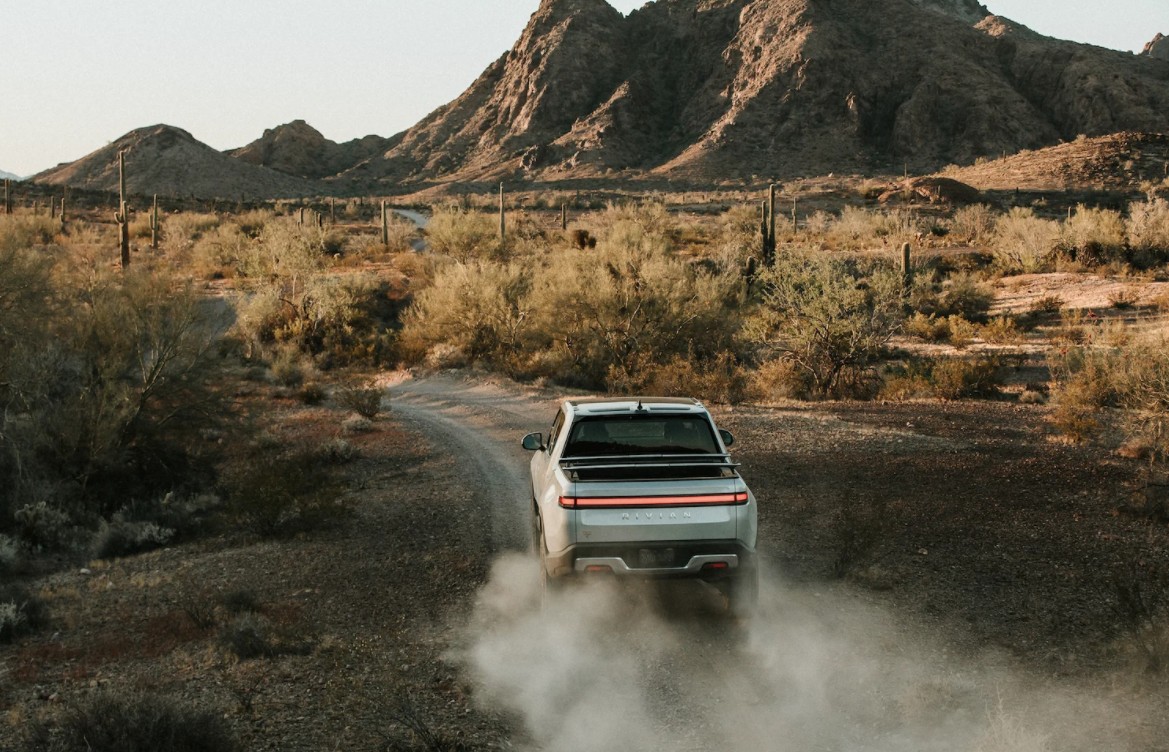 The full details of the Rivian R1T Adventure Package with Forest Edge interior could be accessed here.
Do you have anything to share with the Teslarati Team? We'd love to hear from you, email us at [email protected] or reach out to me at [email protected].
Rivian shares details about the R1T's premium cabin and its amenities
Coinsmart. Beste Bitcoin-Börse in Europa
Source: https://www.teslarati.com/rivian-r1t-final-interior-details/