$168 Million Transfer from PlusToken Sparks Investor Fears
The PlusToken scam continues its cash transfers, with network observers and crypto insiders all but defenseless in the wake of the asset movements. However, the scam is now having Ether investors scared, as many believe a possible sell-off could be on the horizon.
Massive Transfer Has Investors on Edge
Last week, the scam's operators continued making asset movements by attempting to move 789,500 Ether. According to data from popular crypto tracking platform Whale Alert, the cash, worth about $186 million, was on the move on Wednesday.
The transfer came from a known Ether wallet address, although it was eventually split into 50 separate transactions – most likely in a bid from the PlusToken operators to hide their activities.
Considering PlusToken's reputation for conducting asset transfers and causing the assets themselves to lose value, many are now speculating that Ether could be in for a dip. PlusToken was one of the most extensive scam operations in the history of the crypto industry. The company launched in China back in 2018, pretending to be a wallet and investment platform. It offered attractive monthly returns, and was soon able to achieve $3 billion in assets under management.
Soon enough, however, the company's fraudulent nature came to light, and the jig was up. Last July, law enforcement authorities arrested six Chinese citizens in Vanuatu, a country in the Pacific Islands. Per accounts, the men were suspected of having had affiliations with the company. However, PlusToken denied connections with them.
When the fallout settled, estimated showed that PlusToken stole 180,000 BTC, 6.4 million ETH, 53 OMG, and 110,000 USDT tokens from its investors. At the time, the value of the company's loot totaled about $2.9 billion.
Market-Crushing Transactions
When the company shut down, its operators began to move cash around aggressively. They made big-money transactions in seconds, causing panic amongst investors.
Last year, market research firm Chainalysis reported that it had tracked about 45,000 BTC (worth about $302 million at the time) and 80,000 ETH (another $102 million) that the company had sent to several individual addresses. The research firm also spoke on the possibility of these transfers causing downward shifts in asset prices.
"Given this analysis and the effects we've observed so far, liquidations of large amounts of illicitly obtained funds are likely to drive down the price of cryptocurrencies," it said.
Many also believe that the March 12 Bitcoin crash – which saw the top cryptocurrency plunge to a value of $3,800 – was a result of a PlusToken Bitcoin dump on spot markets. However, Chainalysis debunked the rumors.
In a research paper, the analysis firm explained that Bitcoin transfers from PlusToken slowed down before the day. So, the chances of the scam causing the March 12 price glut were very slim.
Still, a lot of industry insiders have been fearful of a possible PlusToken-inspired dump. Last Monday, Whale Alert spotted a transfer of 26,316,339 EOS tokens, all worth about $67 million, from a wallet 26,316,339 EOS tokens, all worth about $67 million, from a wallet that believed to have been associated with the scam operation. The EOS price hasn't taken too much of a hit since the transfer. So, there's a hope that the Ether transfer won't affect the asset's price also.
Source: https://insidebitcoins.com/news/168-million-transfer-from-plustoken-sparks-investor-fears
Ransomware Targets Outdated Microsoft Excel Macros to Deploy Attacks
Microsoft Security Intelligence alerted users to a type of ransomware, called Avaddon, that uses Excel 4.0 macros to distribute malicious emails. These emails contain attachments which deploy an attack when opened in any version of Excel.
Avaddon ransomware emerged in early June through a massive spam campaign that randomly targeted its victims. Some patterns seem to indicate that the ransomware mostly targets Italian users.
Impersonating Italian officials
As BleepingComputer reports, the attackers behind the ransomware are recruiting "affiliates" to spread the payload. According to their analysis, Avaddon's average ransom amount is around $900, paid in crypto.
The attack commonly impersonates officials from Italy's Labor Inspectorate. Messages alert small businesses to alleged work violations during "a period of crisis," referring to the COVID-19 pandemic.
Microsoft said in its Twitter profile:
"While an old technique, malicious Excel 4.0 macros started gaining popularity in malware campaigns in recent months. The technique has been adopted by numerous campaigns, including ones that used COVID-19 themed lures."
Avaddon's messages warn about pending legal actions which will be taken if the user does not open the malicious document.
Numerous victims
A recent study by cybersecurity firm, Proofpoint, shows a recent increase in email-based phishing attacks used to deliver ransomware.
On July 1, Cointelegraph reported that a new ransomware was targeting macOS users who illegally torrent popular apps. The attack, known as EvilQuest, was first spotted by K7 Lab malware researcher, Dinesh Devadoss.
Source: https://cointelegraph.com/news/ransomware-targets-outdated-microsoft-excel-macros-to-deploy-attacks
Analyst Who Predicted Bitcoin's V-Shaped Reversal at $3,700 Is Bullish
It's been a tough past few weeks for the Bitcoin market. Some are skeptical that the cryptocurrency is in a bull trend after BTC has sustained multiple rejections at $10,000.
Yet a trader that nailed a bold prediction remains optimistic, sharing a number of signals indicating imminent upside.
Bitcoin Could Soon See a Bounce, Says Crypto Trader
In March, Bitcoin plunged from the $9,000s to $3,700 in the matter of a week. Considering the severity of the drop, coupled with a collapse in the traditional economy, few expected a rebound.
One analyst, however, was optimistic. Literally hours after BTC tapped $3,700, a trader shared the image below. It shows that the trader believed the bottom was in. He later shared another chart depicting his expectations that there will be a "V-shaped reversal" taking Bitcoin back to $10,000 by May.
Chart by @BTC_JackSparrow (Twitter handle), from TradingView.com
This came true almost to a T, with BTC flirting with $10,000 in May and June.
Despite the recent stagnation, the same analyst remains bullish.
On June 22nd, the analyst speculated that Bitcoin is actually in a textbook Wyckoff Re-Accumulation rather than a Wyckoff Distribution. Re-accumulation patterns are seen in the middle of an uptrend while distribution patterns are formed at the top of bull trends.
Bitcoin will trade above $11,000 within the next two weeks, according to the analyst's interpretation of the chart.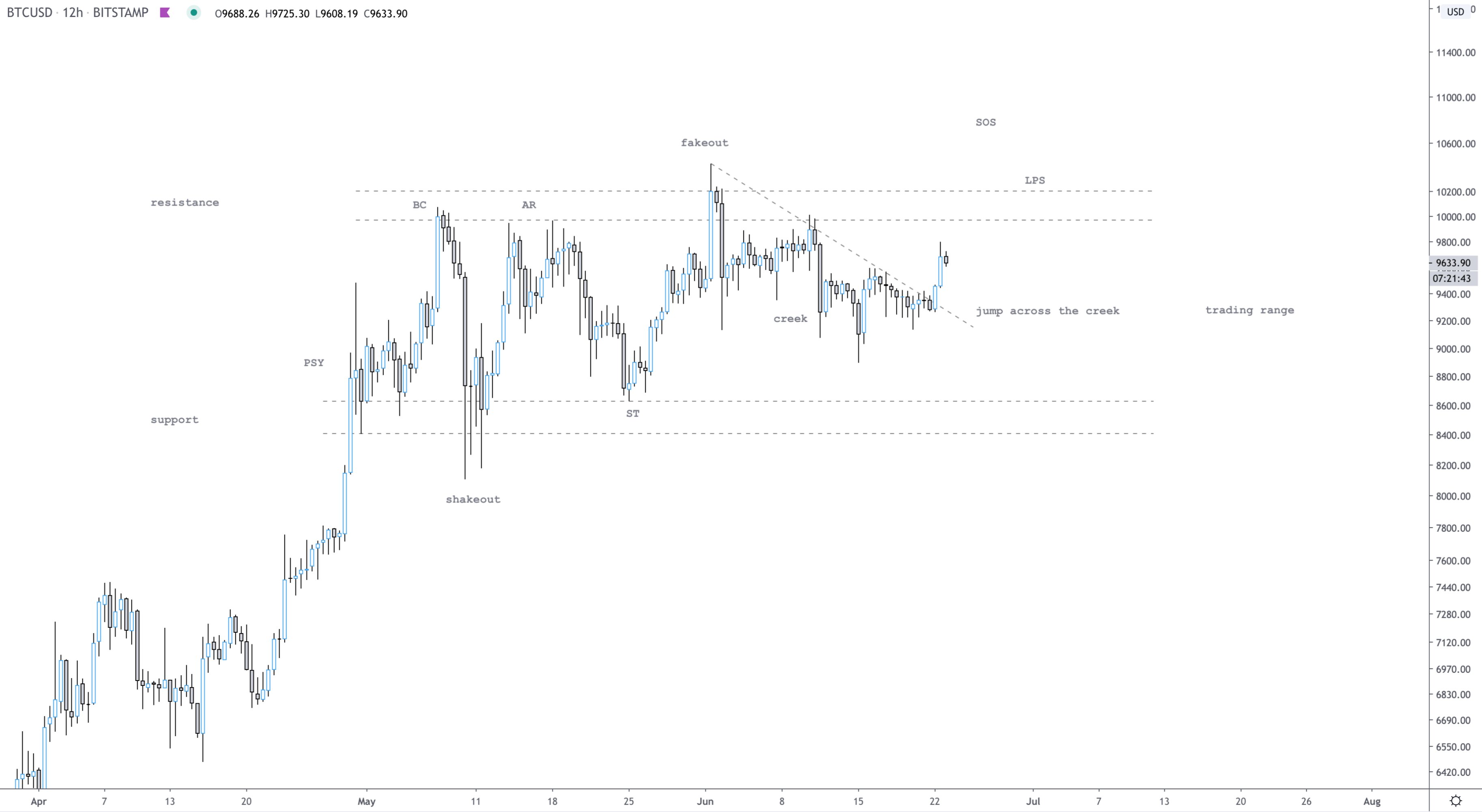 Chart by @BTC_JackSparrow (Twitter handle), from TradingView.com
More recently, he asserted that there's a good likelihood Bitcoin will undergo an "inverse $6,000 capitulation" if BTC holds $10,000. Such a move could take the cryptocurrency to the $14,000-16,000 range, his charts suggest.
The "$6,000 capitulation" mentioned by the analyst was in late 2018, when BTC plunged from $6,000 to $3,000 after ranging for months.
Bloomberg's Mike McGlone Agrees
Bloomberg Intelligence's senior commodity strategist Mike McGlone agrees with the assessment put forth above.
The analyst wrote in Bloomberg's July Crypto Outlook that the increase in the usage of Bitcoin implies a move to higher prices:
"The number of active Bitcoin addresses used, a key signal of the 2018 price decline and 2019 recovery, suggests a value closer to $12,000, based on historical patterns. Reflecting greater adoption, the 30-day average of unique addresses from Coinmetrics has breached last year's peak."
McGlone specifically identified $12,734, which is the highest end-of-day high of 2019.
This comes after he said in June that "something needs to go really wrong for BTC not to appreciate."
Core to this assertion is a number of trends, which include Bitcoin's block reward halving, decreasing market volatility suggestive of institutional adoption, and a correlation with gold.
Featured Image from Shutterstock
Price tags: xbtusd, btcusd, btcusdt
Charts from TradingView.com
Analyst Who Predicted Bitcoin's V-Shaped Reversal at $3,700 Is Bullish
Source: https://www.newsbtc.com/2020/07/03/predicted-bitcoin-reversal-3700-bullish/?utm_source=rss&utm_medium=rss&utm_campaign=predicted-bitcoin-reversal-3700-bullish
Here's Why Ethereum's Consolidation Could Result in an Explosive Move to $480
Ethereum has been consolidating over the past few days within the $220 region.
Although on the surface its price structure seems similar to that of Bitcoin and its peers, it is important to note that it is currently stuck beneath its long-held trading range between $230 and $250.
Its sustained bout of trading below this range is a grim sign, but analysts are noting that the crypto has remained above a couple of crucial technical levels.
The ability to remain above these levels has led one analyst to set his sights on a movement to $480 in the months ahead.
He isn't alone in this target either, as another respected trader offered a similar outlook, noting that whether or not this comes to fruition will depend on whether it can remain above $210.
Ethereum Consolidates Beneath Long-Held Trading Range
At the time of writing, Ethereum is trading up marginally at its current price of $227. The crypto has been trading here for the past several days, unable to garner any clear momentum.
Earlier this week, buyers did attempt to break this consolidation phase when they sent ETH to highs of just over $230, but the selling pressure here proved to be significant.
The reason why $230 is a crucial level is due to it being the lower boundary of a trading range that has been formed over the past two months.
Although Bitcoin has been able to remain firmly within its trading range between $9,000 and $10,000 in recent weeks, Ethereum's buyers have seen waning support as of late.
In spite of this, one popular pseudonymous trader does believe that Ethereum remains technically strong as long as it trades above $210.
He notes that a continued defense of this level could help spark an uptrend that ultimately leads it to $350 this year and $500 next year.
"ETH aiming for $350 this year in my opinion… As long as we hold $210 this is still valid. Thinking we flip $350 and see $500 taken out next year," he said.
Image Courtesy of Cactus. Chart via TradingView.
ETH Holds Above 2 Crucial Technical Levels; Opening the Gates for Massive Upside
Another analyst offered a similar price target for Ethereum, noting it could soon rally towards $480.
He justified this by explaining that ETH is currently consolidating above its 100-day and 200-day moving averages – which is a historically bullish occurrence.
"Ethereum: Acting above the 100-Day and 200-Day MA's, while consolidating in a healthy way. Reminds me a lot of April 2019. Needs to hold; $195-200. Next targets; $290-340 and $425-480," he explained.
Image Courtesy of Crypto Michael. Chart via TradingView.
Unless the aggregated market nosedives in the near-term, it is probable that Ethereum will continue trading above these crucial levels.
Featured image from Shutterstock. Charts from TradingView.
Source: https://www.newsbtc.com/2020/07/03/ethereums-to-see-explosive-move-to-480/?utm_source=rss&utm_medium=rss&utm_campaign=ethereums-to-see-explosive-move-to-480