101 – Building a Million Dollar Kickstarter Launch Team with Khierstyn Ross of Crowdfunding Uncut
Tyler picks the brain of Khierstyn Ross, host of the top podcast Crowdfunding Uncut, who shares lessons learned about building a winning Kickstarter launch team from successful projects that have raised over 2 million dollars in funding.
---
Highlights of this Session Include:
How to building the right launch team to get your project funded.

The importance of the validating process before you launch.

Where creators go wrong with crowdfunding.

Plus: One book Khierstyn is obsessed with right now.
---
Links Mentioned in Today's Show
---
Have You Signed Up for the Beyond Kickstarter Master Class
Sell More Books and Reach More Readers After Your Campaign is Over!
Kickstarter is the #1 platform for funding creative projects in the world and should be a part of every independent creator's business plan. But Kickstarter alone is not enough…
Are you ready to amplify your comics crowdfunding success BEYOND KICKSTARTER?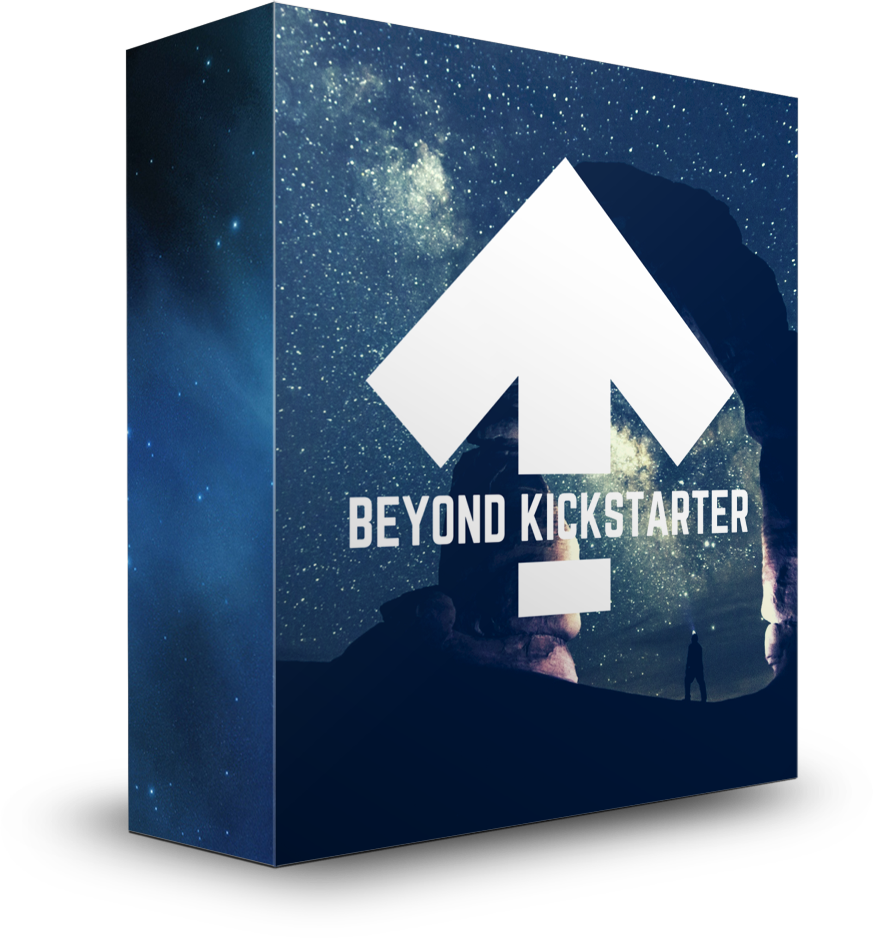 Learn how to leverage success on Kickstarter into increased sales on other channels and platforms, such as the direct market, online, conventions, Amazon, Patreon, and more so that you can reach a broader audience and sell more of your art during the 92% of the year when you aren't launching a Kickstarter.
Will eventually be its own full stand-alone course for sale…
But, because it's the first time I'm presenting this material, and to celebrate you all who have kept me going for 100 episodes, I'm making the live session of the master class FREE to anyone who attends live.
Live Master Class | Thursday, June 29 7:30 PM EDT
Here's Some of What You'll Learn from This Master Class…
Where to start when it comes to building upon your Kickstarter success in other channels?

How to pick the right next channel to focus on for your creative business?

Why most creators online stores fail and what to do differently to see steady book sales in e-commerce?

What it takes to get your Kickstarter funded books into brick & mortar stores and the best plan to make that happen?

The pros, cons, common mistakes, and best practices for sales growth on channels outside of Kickstarter.

The exact next steps you should be taking to expand your sales and grow your audience in channels Beyond Kickstarter.
Now, if you can't attend live, or know you'll want access to this material, after the fact, there is a GOLD option that you can purchase that will give you access to the recordings, plus a number of bonus trainings that won't fit into the 2-2.5 hour master class session.
---
Sponsor Mid-Roll
In a moment, I'm going to give you today's ComixLauncher, but first, we need to thank our sponsor…
Last year, ComixTribe spent nearly $85,000 on printing.
While we rely on a number of printers to get our books to market, one printer I can strongly recommend is KrakenPrint…
Our friends Jacob Way and Sam Amborn at Kraken Print offer:
Competitive pricing.
Great customer service, especially for your first offset print run.
Monthly storage if you do not want to store hundreds or thousands of books at home.
Distribution options, including breaking down orders and shipping direct to Diamond or comic stores at their specially negotiated discounted rates on shipping.
And NOW they even offer Kickstarter fulfillment!
Kraken will pick, pack, and ship out orders for your backers.
If you want to unleash the Kraken, go to comixlaunch.com/kraken, mention the ComixLaunch podcast, and they're going to knock 5% off your first print run…and they're going to hook us up with a 5% credit.
It's a classic win/win/win/win – You get a great price on printing, your backers get a beautiful offset printed book, you help the podcast out, and Kraken gets your business.
That's comixlaunch.com/kraken for 5% off your entire first print run.
---
ComixLauncher [101]
Who do you need on your launch team?
Podcast: Play in new window | Download | Embed
Subscribe: iTunes | Android | RSS
Financial institutions can support COVID-19 crowdfunding campaigns
The economic impact of the COVID-19 pandemic adversely affected the financial outlook for millions of people, and continues to cause significant fiscal distress to millions more, but such challenging times have also wrought a more resilient and resourceful financial system.
With the ingenuity of crowdfunding, considered to be one of the last decade's greatest "success stories," and such desperate times calling for bold new ways to finance a wide variety of COVID-19 relief efforts, we are now seeing an excellent opportunity for banks and other financial institutions to partner with crowdfunding platforms and campaigns, bolstering their efforts and impact.
COVID-19 crowdfunding: A world of possibilities to help others
Before considering how financial institutions can assist with crowdfunding campaigns, we must first look at the diverse array of impressive results from this financing option during the pandemic. As people choose between paying the rent or buying groceries, and countless other despairing circumstances, we must look to some of the more inventive ways businesses, entrepreneurs and people in general are using crowdfunding to provide the COVID-19 relief that cash-strapped consumers with maxed-out or poor credit do not have access to or the government has not provided.
Some great examples of COVID-19 crowdfunding at its best include the following:
The possibilities presented by crowdfunding in this age of the coronavirus are endless, and financial institutions can certainly lend their assistance. Here is how.
1. Acknowledge that crowdfunding is not a trend
Crowdfunding is a substantial and ever-so relevant means of financing all sorts of businesses, people and products. Denying its substantive contribution to the economy, especially in digital finance during this pandemic, is akin to wearing a monocle when you actually need glasses for both of your eyes. Do not be shortsighted on this. Crowdfunding is here to stay. In fact, countless crowdfunding businesses and platforms continue to make major moves within the markets globally. For example, Parpera from Australia, in coordination with the equity-crowdfunding platforms, hopes to rival the likes of GoFundMe, Kickstarter and Indiegogo.
2. Be willing to invest in crowdfunded campaigns
This might seem contrary to the original purpose of these campaigns, but the right amount of seed-cash infusions to campaigns that are aligned with your goals as a company is a win-win for both you and the entrepreneurs or causes, especially now in such desperate times of need.
3. Get involved in the community and its crowdfunding efforts
This means that small businesses and medium-sized businesses within your institution's community could use your help. Consider investing in crowdfunding campaigns similar to the ones mentioned earlier. Better yet, bridge the gaps between financial institutions and crowdfunding platforms and campaigns so that smaller businesses get the opportunities they need to survive through these difficult times.
4. Enable sustainable development goals (SDG)
Last month, the United Nations Development Program released a report proclaiming that digital finance is now allowing people from all over the world to customize and personalize their money-management experiences such that their financial needs have the potential to be more readily and sufficiently met. Financial institutions willing to work as a partner with crowdfunding platforms and campaigns will further these goals and set society up for a more robust rebound from any possible detrimental effects of the COVID-19 recession.
5. Lend your regulatory expertise to this relatively new industry
Other countries are already beginning to figure out better ways to regulate the crowdfunding financing industry, such as the recent updates to the European Union's handling of crowdfunding regulations, set to take effect this fall. Well-established financial institutions can lend their support in defining the policies and standard operating procedures for crowdfunding even during such a chaotic time as the COVID-19 pandemic. Doing so will ensure fair and equitable financing for all, at least, in theory.
While originally born out of either philanthropy or early-adopting innovation, depending on the situation, person or product, crowdfunding has become an increasingly reliable means of providing COVID-19 economic relief when other organizations, including the government and some banks, cannot provide sufficient assistance. Financial institutions must lend their vast expertise, knowledge and resources to these worthy causes; after all, we are all in this together.
Source: https://techcrunch.com/2020/10/23/financial-institutions-can-support-covid-19-crowdfunding-campaigns/
Taking LSD Could Help Your Career
You rely on Crowdability to bring you the best start-up deals. Now rely on us to bring you the most fascinating stories and trends from the world of technology. You won't find this stuff in the mainstream press. Look for it every Friday morning.
The Scariest Movie Ever — According to Science
The Exorcist? Poltergeist? Friday the 13th? What's the scariest movie of all time? Well, just in time for Halloween, science finally has an answer. The scariest movie ever is… »
Teenager Discovers Potential Cure for Covid-19
Top scientists are racing to develop a cure for the coronavirus. But meanwhile, a 14-year-old high school student might have beaten them to it. Learn more »
Finally, Help for Earworms
Ever had a song stuck in your head, but you can't remember the name of it, or any of the words? Help has arrived »
Now You Can Surf the Web on the Moon
The population of the Moon is pretty small. In fact, it's zero. So why is it getting wireless internet service? All the facts right here »
Taking LSD Could Help Your Career
Need help focusing at work? Got a big project that requires your attention? This could help »
Source: http://www.crowdability.com/article/taking-lsd-could-help-your-career
Earn $10,249 a Year in FREE "Crypto Income"
Last December, I wrote to you about a new way to make money with cryptos.
It didn't involve risking your money on high-risk crypto tokens. Instead, it was a way to earn safe, consistent income — for FREE — month after month.
In fact, as I'll explain today, if you'd followed my advice, you could have earned as much as $10,249 over the past year.
But if you didn't follow my advice, not to worry…
Because as I'm about to explain, you can still take advantage of this strategy today…
Let Me Introduce You to Sandy
Before I reveal this powerful income-generating strategy, let me introduce you to someone:
Her name is "Sandy" — or, as she's more commonly known, Hurricane Sandy.
Sandy hit New York on October 29th, 2012. According to Business Insider, it was the "worst storm to hit the area since at least [the year] 1700."
It dropped over 14 feet of water on lower Manhattan, and it left millions of residents without power, cell phone service, or the internet.
People had no way to get in touch with their loved ones, or to get access to emergency info.
But for residents of a tiny neighborhood in Brooklyn, it was quite a different story…
A Peer-to-Peer Network Saves the Day
When Sandy hit and the internet went down, a small group of technologists in an old industrial neighborhood called Red Hook sprang into action.
They set up a "peer-to-peer" network called a "local mesh network." This enabled residents to connect to each other's computers directly, so they could communicate.
Everyone else was trying to get online the traditional way: by connecting to a single server. But since that single server wasn't working, they were out of luck.
Here's an image that shows a traditional network versus a peer-to-peer network:
As you can see, there's no "middleman" in the peer-to-peer network…
So there's no single point of failure!
This Could be Huge
This type of peer-to-peer technology is a big deal…
The next time a natural disaster occurs — or God forbid, if there's a terrorist strike — it could keep people online and connected.
This explains why Grandview Research estimates that, by 2025, such networks could turn into a market worth $11 billion.
It also explains why venture capitalists are pouring money into this sector. For example, Union Square Ventures recently invested $15 million into a peer-to-peer networking startup.
And as it turns out, you could profit from this deal, too.
Let me explain…
Introducing: Helium
Union Square Ventures is one of the most successful venture firms in the country.
It was an early investor in billion-dollar startups like Twitter and Tumblr.
And now it's invested in a peer-to-peer networking startup called Helium.
Simply put, Helium has built a simple device that acts as a "hot spot."
Once you put the device in your home, people in your neighborhood can use it to connect to each other instantly.
This device is a breakthrough. You see, when the Red Hook technologists set up their network during Hurricane Sandy, they encountered huge problems. For example:
They had to create their own custom software.
They were forced to rely on inefficient hardware and unsecure connections.
They had to pay huge electricity bills.
But Helium fixes all of these problems in one fell swoop. And now, during an emergency, a Helium network could mean the difference between life and death.
And that's why Helium wants to incentivize you to set one up…
New Crypto: Helium Tokens
Simply put, if you set up a Helium network, you can earn real money.
Here's how it works:
Helium has created a crypto-currency called Helium Tokens (HNT).
To earn these coins, you just need to set up and maintain a Helium network.
And because these coins are traded on various crypto exchanges, you can exchange them for real dollars.
Fred Wilson, a partner at Union Square Ventures, has earned roughly 8,266 Helium Tokens since he first set up his device a year ago.
Based on the current price for Helium Tokens, that works out to roughly $10,249 in extra income in the past year alone!
And now you have the chance to start earning income like that, too!
Cash-in on Cryptos Today
Keep in mind: to get started, you'll need to pay a few hundred dollars for the Helium device.
But once you own the device, you essentially have a source of free income.
To learn more, visit Helium's website here »
Happy investing!
Best Regards,


Wayne Mulligan
Founder
Crowdability.com
Source: http://www.crowdability.com/article/earn-10249-a-year-in-free-crypto-income